Main Photo: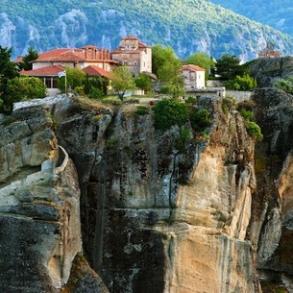 DAY 1: We drive through the fertile plains of Boeotia, crossing the towns of Thebes, Levadia and Arachova to reach Delphi and the Temple of Apollo, situated in breathtaking scenery on the slopes of Mount Parnassus.
You will visit the Temple and the Museum, which contains masterpieces of ancient Greek sculpture, including the famous Charioteer. After our visit to the archaelogical sites you can have a luch before we begin our journey to Kalambaka. You will spend the night in Kalambaka before we begin the next morning our visit to Meteora Monasteries.
DAY 2: We visit the monasteries of Meteora which have priceless religious treasures. The monasteries give the impression that they stand between heaven and earth, over huge granite rocks. Meteora is the unique UNESCO World Heritage Site.
Upon completion of our visit to the Monasteries we will have luch before begining our return trip to Athens. We will also make a short stop at the Thermopylae (where we will visit the monument of the Battle of Thermopylae, where is the statue of Leonidas). Then we head back to Athens.
*The price does not include the entrance fees of the archaelogical sites
Supported Vehicles:
Standard Sedan
Luxury Sedan
Executive Sedan
SUV
Luxury Minivan
Standard Minivan
Luxury Minibus
Coach Bus