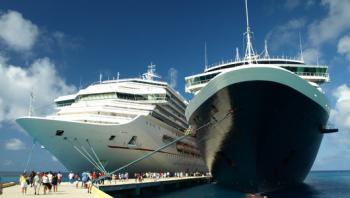 If you are arriving in Greece by sea, it is most likely that you will enter via one of the following ports.
Port of Piraeus: This is Greece's Oldest and largest port, and is located 15 km from the center of Athens. This port has daily departures to all of the Greek islands.
Port of Rafina: This port is located on the Eastern shore of Attica 30 km from the city center. Rafina is smaller than Piraeus, and serves a selection of Greek islands including Mykonos, Tinos, Andros and Evia.
Port of Lavrio: This port is located on the southern most tip of Attica 60 km from the city center. This port serves a few nearby islands, but is known for it's modern marina which serves all private yachts ( Attica Olympic Marina).
Port of Agios Konstantinos: This port is located 165 km from Athens, in the county of Fthiotida, and serves the Sporades Islands of Skiathos, Skopelos and Alonissos, and the port of Agios Georgios in North Evia.
Port of Porto Heli: This port is located in the popular Peloponesse region of Greece, and is located 150 km from the city of Athens. This port serves the islands of Hydra, Spetses and Dokos.
Within the designated arrival area of the port itself, you will be greeted by our friendly staff that will be holding a sign with your name or company information on it. We will promptly take you to the vehicle, and onto your destination.
If you would like any further information about our Airport and Port chauffeur services, please feel free to contact us, where a member of our staff will be onhand to help with any questions you may have.