Main Photo: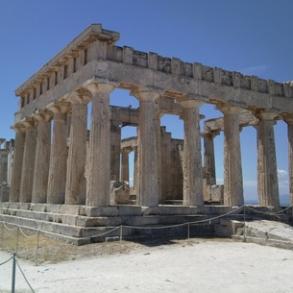 In the full day Aegina tour you have the opportunity to travel by boat in a small period of time to one of the Argosaronikos' islands. Our journey begins with the departure from the Port of Piraeus to the Port of Aegina by ferry.
The tour begins with the visit in the Temple of Afaia (Godess Athena) which is estimated to be built around 500-490 b.c. The temple is dedicated to Godess Athena and is located 29 kilometers southwest of the Parthenon temple. If the weather permits, you will be able to see the temple of Poseidon in Sounion. There was a myth saying that the three temples (Afaia, Parthenon and Poseidon) formed an isosceles triangle. The temple is considered to be a top creation of the archaic architecture and is believed to be the exemplar which inspired the architects, Iktinos and Kallikrates to build the Parthenon.
Our next destination is the Holy Temple of St. Nektarios which is one of the greatest temples of Christian Orthodoxy. The Monastery of St. Nektarios was built around 1904-1910. The total capacity of the temple along with the peristyles can accommodate up to 9.000 people.
Our final destination is the modern harbour of Aegina where we have the opportunity to see a place that stirs the interest of the visitors, the Kolona. The urban area was named after the Kolona, and you can regularly hear people talking about the temple of Kolona. In fact, the temple is dedicated to Apollo who was a point of great interest in Anienct Aegina. The temple of Apollo's architecture is Doric such as Parthenon's and was built around 520-500 b.c. The Museum is located close to the temple which exhibits findings from the temple of Afaia, the Hercules statue and the Sphinx of Aegina.
As our tour reaches its end, you can relax and enjoy the sea having a lunch in a traditional tavern or have a coffee break.
* The price includes chauffeur's and vehicle's boat tickets and it does not incude clients' tickets.
Supported Vehicles:
Standard Sedan
Luxury Sedan
Executive Sedan
SUV
Luxury Minivan
Standard Minivan
Luxury Minibus
Coach Bus