Main Photo: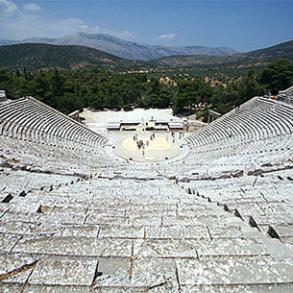 DAY 1: On our way to Nafplion we will make a short stop at the Corinth Canal to enjoy the wonderful views.
Then we will visit one of the most important and beautiful archaeological sites in Greece, the Ancient Theatre of Epidaurus, which is famous for its acoustics and outstanding cultural events held each summer. The theater was built by architect and sculptor of Argos, Polycleitus. It was built in two distinct phases. The first end of the 4th century and the second in the middle of the 2nd century.
Then we begin our journey to Nafplion, where the charm and beauty, integrate the two fortresses that dominate over the rooftops of the old town buildings. Here you can visit many attractions such as the Medieval Castle of Palamidi, Acronafplia and Bourtzi. After our dinner you will spend the night in Nafplion.
DAY 2: The next morning we begin our trip to the ancient city of Mycenae. Mycenae has many sites of great interest such as the Lion Gate, the Temple of Hera and the Tomb of Agamemnon. We will also visit the Cyclopean walls of the Citadel of Mycenae and after the lunch, we begin our return trip to Athens.
*The price does not include the entrance fees of the archaelogical sites
Supported Vehicles:
Standard Sedan
Luxury Sedan
Executive Sedan
SUV
Luxury Minivan
Standard Minivan
Luxury Minibus
Coach Bus